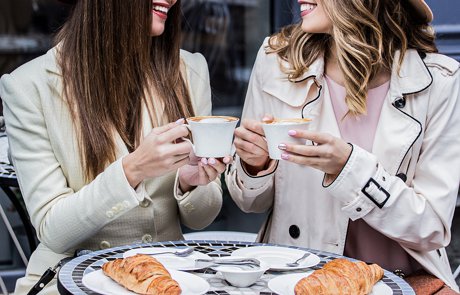 Art and culture overflow on Historic Downtown McKinney property. A social hub throughout the ages, historic downtown has been a gathering place since first established way back in 1848. Today's folks living in McKinney meander around the historic area soaking up the history while engaging with one another. Unique boutiques and shops intermix with cute cafes and quaint art galleries.
Shoppers unite for a day well spent. Historic Downtown McKinney has practically anything anyone would be looking for. Treasure hunters discover one goodie after another in resident antique shops. Trendsetters and fashionistas frequent one fashion boutique and then find accessories in another around the corner. Children's apparel is also on hand perfect for the youngest members of the community to look their best.
Art and Whimsy Surround Folks Living in McKinney
Art is in the eye of the beholder and whimsy is found in art boutiques, museums and galleries. All the senses are treated to the arts from visual to performing. Precious pieces are spotted during strolls through intimate galleries. Interactive art classes are always on the calendar in a variety of venues. Budding artists of all ages delve into ceramics, painting and drawing. Lessons for voice and musical instruments occur in other nearby venues. Generations have enjoyed top quality performing arts programs. Hosted by the McKinney Performing Arts Center found in the historic courthouse.
Those wandering around downtown can work up quite an appetite. Local eateries, cafes and restaurants have it covered. Farm to table dishes provide delicious choices for lunch. In the sandwich shop a generous menu lists a variety of combinations. Chocoholics and those saddled with a sweet tooth are easily satisfied with neighborhood ice cream shops and bakeries. Whether its pizza and beer or coffee and croissants tummies end up happy here.
With so much hustle and bustle it's easy to understand why Historic Downtown McKinney property has been declared the "unofficial center of leisure and play!" Visits are unlimited with shopping until dropping, immersing oneself in the arts or meeting friends for lunch.